I've officially published and released Bigmart Confidential: Dispatches from America's Retail Empire after 10 years of work on the project, and I couldn't be prouder of the finished product.
The book is currently for sale as an Amazon Kindle e-book, and I'm waiting for the proof of the CreateSpace paperback version.
And here's the book description I wrote for Bigmart Confidential:
Bossy customers, out-of-touch managers, missing children, gawking Mormons, weapons of cardiac destruction, overworked and underpaid employees — it's all in a day's work at Bigmart.
There's no shortage of wild, funny, and moving tales to tell, and writer Steven Surman captures them all in the pages of Bigmart Confidential: Dispatches from America's Retail Empire. In the book, Surman details his time working as a deli clerk in one of the world's largest big-box retailers. And his experiences and encounters there taught him a valuable lesson: American retail is far stranger and funnier than fiction. Because only at a superstore like Bigmart is it possible to be lectured by an irritated customer speaking frantically through a mechanical larynx.
Surman's clean and conversational prose delivers a true account full of hilarious customer-service stories and sharp insights into the toils of the working class and the ever-growing service industry that employs it. Fans of Barbara Ehrenreich's Nickel and Dimed, David Sedaris' The Santaland Diaries, and NBC's Superstore cannot miss this book!
And here's the final cover for Bigmart Confidential: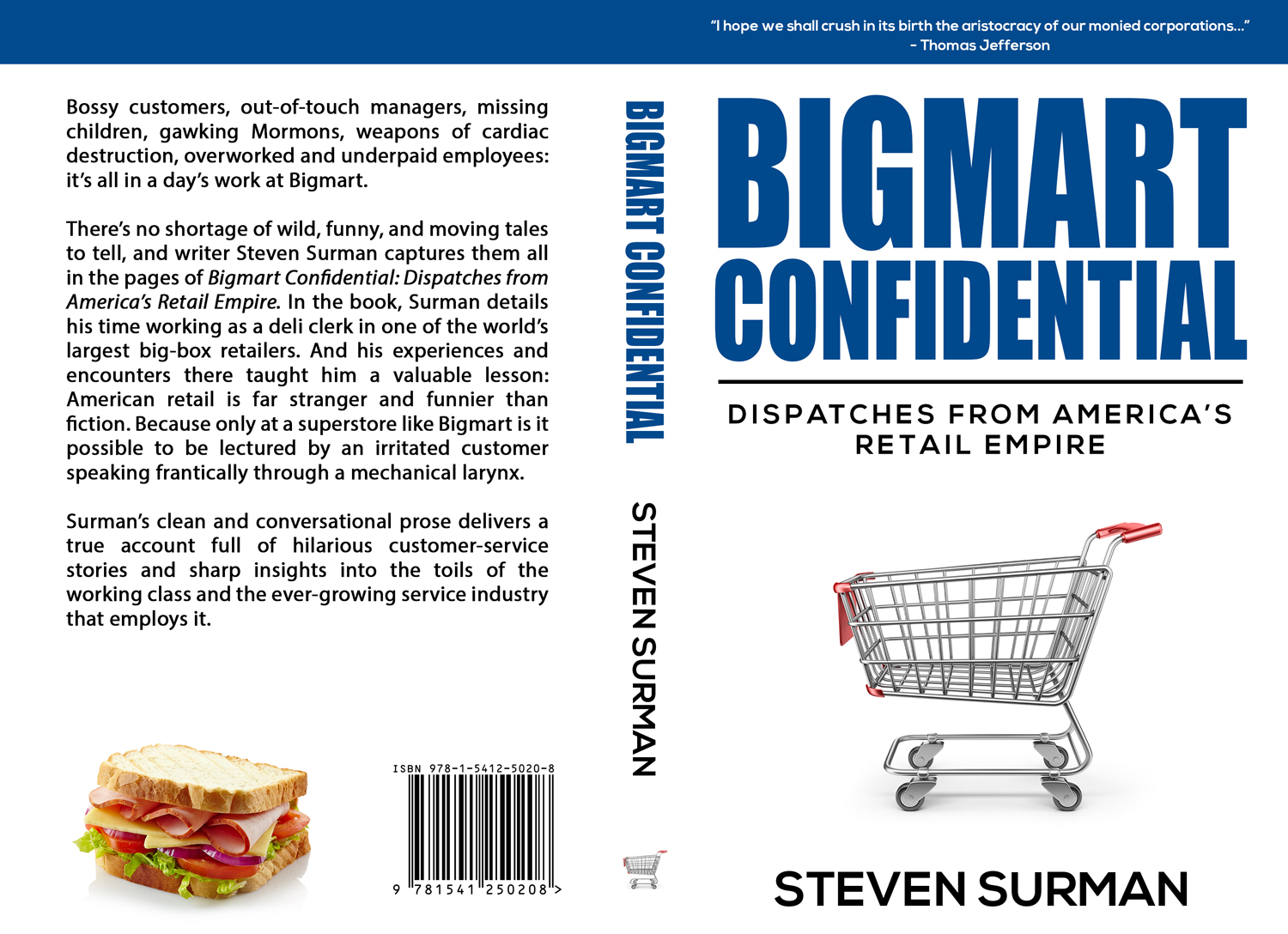 Since my book is self-published, I originally intended to only release a digital version as a catharsis to finish a project I've stopped and started so many times over so many years. But that intention was rooted in a fundamental misunderstanding of the opportunities and resources available to independent authors.
The other night when I was browsing the Facebook page of Anne Rice (of whom I've been a lifelong fan), she wrote the following post about her invitation to independent authors to write visitor posts on her wall: "Do take a look at all those indie authors posting about their work under 'Visitor Posts.' I've invited them to share with us cover art and links to their work. Do take a chance on an indie author. This is a golden time for indie authors."
She's right — it is a golden time to publish independently. When I was younger I'd ridicule anything self-published, and the focal point of my ire was the 2002 Christopher Paolini novel Eragon (despite the fact — or maybe exactly because of — it turned into a successful venture in self-publishing that earned re-publishing by Alfred A. Knopf and a 2006 film adaptation).
And while I still recognize my younger attitude toward self-publishing, I now see it as antiquated and small-minded. After all, I don't want to sound like the haughty and condescending Laurie Gough or Ted Thompson, do I? Because surely books released by publishing houses are only interested in high-quality, attention-grabbing stories told through masterfully crafted prose, right? There are no other decisions — cynical, corporate, money-grubbing decisions — affecting what books are and are not greenlit, right?
But I digress.
And while I don't know how well the book will do (or if it will do well at all), I couldn't be prouder of the finished product. And the creation of Bigmart Confidential: Dispatches from America's Retail Empire is a story itself, one I'm going to share over the coming weeks and months here on Steven Surman Writes.